The institute is significantly involved in the teaching of the Bachelor's and Master's programmes in Technical Biology at the Faculty of Energy, Process and Bioengineering.
We also offer students a laboratory course in microbiology for food chemists as part of the master's degree programme in food chemistry (Uni Stuttgart/Uni Hohenheim). The teaching programme for technical biology includes, among others, lectures on microbiology and microbial biotechnology (modules Technical Biology I ,III and IV, module Special Microbiology and Microbial Biotechnology) in the Bachelor's programme.
A basic microbiology course (after the 3rd semester of the BSc programme) and advanced practical courses in the Bachelor programme (4th semester Microbial Enzymes in Biosyntheses, and 5th semester Microbial Biotechnology for BSc and MSc students) are offered as practical laboratory exercises. We are involved in the modules Bioanalytics I and II (lecture and laboratory practicals).
Current guest lectures
In addition to seminars on the practical courses, a literature seminar on current areas of microbiology, the Microbiology Seminar is held at the Institute with guest lectures and reports from ongoing Bachelor's and Master's theses, as well as doctoral theses.
If you would like to write a student thesis with us, you will find more information on the following pages.
Contact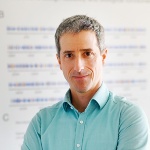 Beat Christen
Prof. Dr.
Head of the Institute for Microbiology